Wishlist Wednesday #1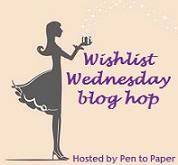 Wishlist Wednesday is a book blog hop conducted by Pen to Paper, where we will post about one book per week that has been on our wishlist for some time, or just added (it's entirely up to you), that we can't wait to get off the wishlist and onto our wonderful shelves.
Wishlist Wednesday has a blog hop each week!  I am choosing one of the books that's been on my wishlist a while, but which I'd love to actually get into my hands and read!



Before I Fall

by 

Lauren Oliver

 (Goodreads Author)  4.02 rating * 21,488 ratings * 4,291 reviews

What if you only had one day to live? What would you do? Who would you kiss? And how far would you go to save your own life?

Samantha Kingston has it all: looks, popularity, the perfect boyfriend. Friday, February 12, should be just another day in her charmed life. Instead, it turns out to be her last.

The catch: Samantha still wakes up the next morning. Living the last day of her life seven times during one miraculous week, she will untangle the mystery surrounding her death–and discover the true value of everything she is in danger of losing.
What an overwhelmingly wonderful experience it could be to re-live the last day of our lives … not just once, but seven times!  The chance to say goodbye, to close up loose ends, to tell every person you love just how much you love them?  I love this idea, but am also wickedly terrified by it!  I love that all these feelings arise with just a preview!
I am fiercely intrigued by the description alone!  Add to it the wonderful rating  with a large number of readers it's received, and it's high high high on my t0-read list.